Flourless Chocolate Cake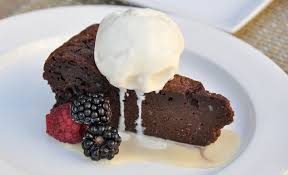 Ingredients:
1 cup coconut oil
6 eggs
3/4 cup maple syrup
8 oz. bittersweet chocolate
1 cup unsweetened cocoa powder
1 tsp vanilla extract (optional)
Directions:
Preheat oven 350 degrees.
Melt oil and chocolate in double boiler, mix well and put a side to cool.
Whisk cocoa powder with maple syrup and eggs.
Blend all ingredients together.
Poor into oiled spring-form pan that layered with parchment paper on the bottom.
Bake for 35 min.

Remove from the pan and s

prinkle with cocoa powder.

Enjoy it warm with vanilla ice cram (my favorite combination)!