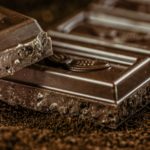 Ingredients:
12 oz. of bitter or semi-sweet chocolate
1/4 cup of unsweetened shredded coconut
2 tablespoon of quinoa seeds
1/4 cup of hulled, unsalted pecans, small peaces
1/4 teaspoon of cayenne pepper (optional)
Directions:
Place the quinoa seeds in a skillet over medium-low heat and toast for about 3 minutes. Allow to cool.
Place the pecans in a skillet over medium-low heat and toast for about 5 minutes. Allow to cool.
Melt the chocolate according to the manufacturer's directions. Once melted add the coconut and cayenne pepper.
Spread onto a flat baking pan lined with a parchment paper in 1/2 inch-thick layer. Sprinkle over and press into the chocolate the pecans and quinoa seeds.
Refrigerate for 10 minutes or until hardened.
Remove the paper, break into pieces and serve or store in the fridge in a container for few days.
Enjoy!
Flourless Chocolate Cake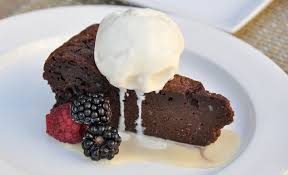 Ingredients:
1 cup coconut oil
6 eggs
3/4 cup maple syrup
8 oz. bittersweet chocolate
1 cup unsweetened cocoa powder
1 tsp vanilla extract (optional)
Directions:
Preheat oven 350 degrees.
Melt oil and chocolate in double boiler, mix well and put a side to cool.
Whisk cocoa powder with maple syrup and eggs.
Blend all ingredients together.
Poor into oiled spring-form pan that layered with parchment paper on the bottom.
Bake for 35 min.

Remove from the pan and s

prinkle with cocoa powder.

Enjoy it warm with vanilla ice cram (my favorite combination)!