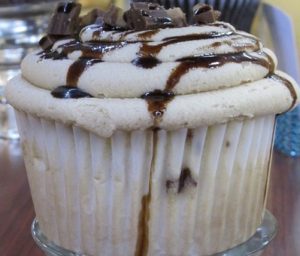 Ice cream is a part of warm season. I always eat ice cream with pleasure to cool my overheated body down in the summer hit. My kids and I enjoy even more the healthy version of this sweet haven. Try my healthy simple and easy recipe this summer.
NGREDIENTS
For the crust
¼ cup almond flour
¼ cup coconut flour
¼ cup coconut oil, melted
½ tsp. vanilla extract
Pinch of salt
For the ice-cream
2 large and very ripe bananas, frozen
1 can full-fat coconut milk, chilled overnight
1 tsp. vanilla extract
3 Tbs. cacao nibs plus additional for topping
INSTRUCTIONS
1. Line 6 muffin cups with paper liners. To make the crust, combine all the crust ingredients and press into the bottom of the 6 muffin cups.
2. To make the filling, open the can of chilled coconut milk and scoop out the thick coconut cream which separates to the top. Save coconut water for smoothies.
3. With a handheld blender, whip the coconut cream until it looks like whipped cream.
4. In a blender, blend the frozen bananas until creamy. You may need to add a tablespoon of water or coconut water to allow blending.
5. Stir together the whipped coconut cream, blended bananas, and cacao nibs and divide between the muffin wells. Sprinkle with additional cacao nibs. Freeze until solid, at least 6 hours, before enjoying.
6. Once frozen solid, transfer to an airtight container and keep in the freezer.
Enjoy with your friends and family!