Do you feel…
     Tired all the time?
          Something is off, but you're not sure what?
               Extra pounds cling to you and won't let go?
                     Like you haven't slept?
                         Out of control with food cravings?
                              Stressed out, anxious or depressed? 
These might be symptoms of a toxic body.
 Let's clean you up from the inside out!
 Good news! It's easier than you think with the "10 Day Holistic De-Stress Online Program"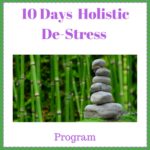 To have…
More energy
Clearer thinking
A stronger immune system
Easier weight loss
A more positive attitude
Fewer cravings                                         
                                  …And sleep better
"The detox program is very unique and easy to follow. After completing this program, spiritual growth was the primary benefit for me."  ~Martine
"Patience, kindness, dedication and love represent a few characteristics of Larisa. She maintains this positive attitude that makes change easy. Larisa's guidance and knowledge are both helpful and beneficial as I was dedicated to help myself." ~Lea
Here's how it works:
 During Our 10 Day Holistic De-Stress Online Program you will receive:
Daily e-mails with tips, affirmations, and empowering messages
An easy-to-use Handbook
Meal Plan templates
Cookbook with Simple and Easy Recipes 
Private Facebook group support
Please join us in for our  10 Day Holistic De-Stress Online Program and enjoy 50% off for a limited time
Regular price  $139
 Join today for a special $69
Bring a friend with you for $30 
For more information and registration
email [email protected] or call 732-735-1527